Exhibitions
100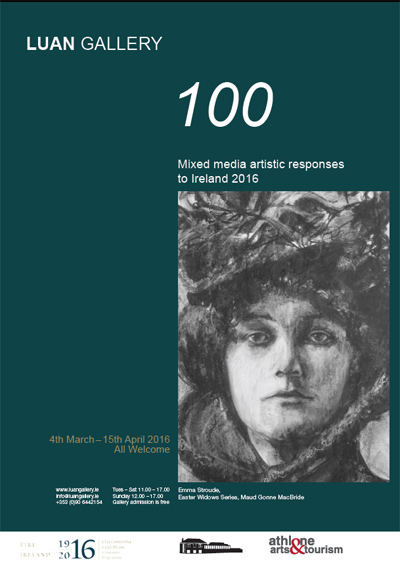 posted: Mar 03
Group show featuring mixed media artistic responses to Ireland 2016
Marking the centenary of the 1916 Rising

Exhibition launch took place at 6:00pm on Friday 4th March 2016 with Guest Speakers Sinéad McCoole, Author, Curator and Historian and Gearóid O'Brien, Librarian, local historian and author, officially opening the exhibition.

Exhibition continues until Friday 15th April.

To mark Ireland 2016 Centenary Year, Luan Gallery is delighted to introduce 100; a mixed media group exhibition presenting responses to the 1916 Rising centenary theme.

Featuring installation, film, encaustic, textile art, performance and painted works, 100 includes work by: Tomás O'Maoldomhnaigh, Suzanne Colleary, Sue Morris, Jackie Eastwood, Jill Miller, Rosemarie Langtry, Niamh O'Cononor, Lora Murphy, Emma Stroude, Roger O'Shea, Nessa McMahon, Frances Flanagan, Josie Molloy, Jessica Wehder and Tonnta Street Theatre and Community Arts Group.

All Welcome

Free guided tours available on request
Tues – Sat 11.00 – 17.00
Sun 12.00 – 17.00

Admission free
<!-share feature-->
Share this

Share on Facebook

Tweet This