Exhibitions
Fiona Kelly and Margo McNulty at Luan Gallery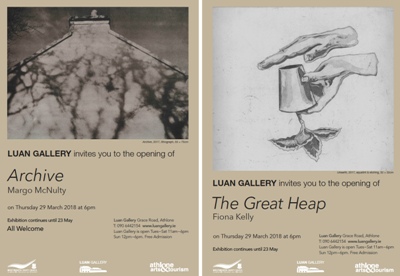 posted: Mar 08
An exhibition highlighting the diversity of print as an art form at Luan Gallery

Luan Gallery is delighted to present two exhibitions highlighting the diversity of print as a medium. The Great Heap by Fiona Kelly will feature in the Library Gallery while Archive by Margo McNulty will be shown in the New and River Gallery spaces.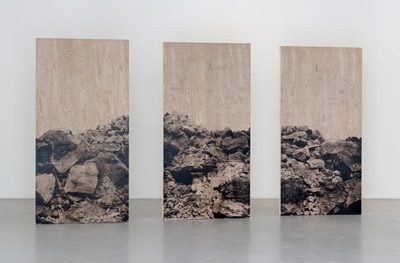 "The Great Heap" by Fiona Kelly


Westmeath native Fiona Kelly utilises a mixture of 2D print and sculptural elements, creating an art installation as a means to explore mans' interaction with the built environment and the Natural world. Kelly uses limestone dust, plywood, glass and other re-appropriated materials to contemplate what is lost and the transience of things.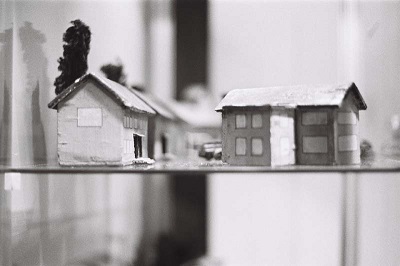 "Curragh Museum" by Margo McNulty

Against this installation based, the New and River Gallery's will feature the work of Athlone based artist Margo McNulty. McNulty's work deals with hidden history, memory and place. Using video, photo etchings and photographic prints she creates a visual documentary based on her uncle's experience who was detained as one of many Republican internees in the 1940s in the Curragh camp in Kildare.

Curator Katriona Gillespie says
'We are proud to present the work of two Westmeath artists; Fiona Kelly and Margo McNulty in Luan Gallery. The technique of producing art from printmaking is a tradition that has been practiced for centuries. Both Fiona and Margo translate these traditional forms to contemporary art, constructing meaning from age old printmaking techniques combined with video, installation and 3D works. The combination of these two artists' works and their use of printmaking to address themes of memory, the passing of time and our interaction with the environment offers a diverse viewing experience for Luan Gallery audiences during the months of April and May'.

The combination of these two artists' contrasting works addressing memory and the passing of time in different contexts will create a diverse viewing experience for the gallery's spring and summer audiences.

The exhibition will officially launch on Thursday 29th March at 6pm with an address by Westmeath Arts Officer Miriam Mulrennan and a wine reception to which all are welcome. The exhibition will continue until 23rd May.

Luan Gallery is open Tuesday – Saturday 11.00 – 17.00 and Sundays 12.00 – 17.00. Admittance to Luan Gallery is free of cost and guided tours are available to all at no cost.

<!-share feature-->
Share this

Share on Facebook

Tweet This