Exhibitions
Free Virtual Creative Workshop for Teenagers with Colm Mac Athlaoich for Cruinniú na nÓg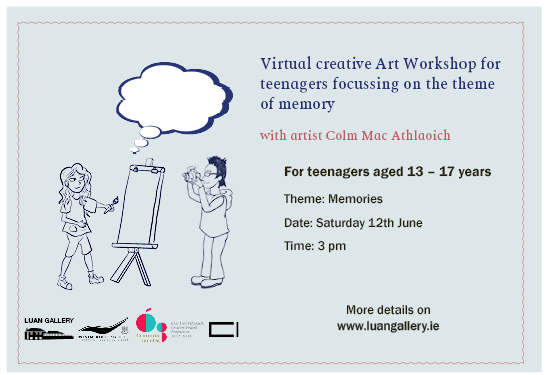 posted: Apr 21

Age Group: 13 – 17 years
Date: Saturday 12th June
Time: 3 pm
How to join: The pre-recorded video will be published on the Luan Gallery website and social channels at 3pm.

In celebration of Cruinniú na nÓg 2021, artist Colm Mac Athlaoich will deliver a pre-recorded creative art workshop for teenagers focussing on the theme of memory, which links to his exhibition 'Percept' and looking at how teenagers perceive the world around them. The outcome will be an abstract artwork; painting or drawing based on the teenagers gathered personal research imagery (e.g. photos). This workshop is supported by Creative Ireland and Westmeath County Council.

Colm will encourage teenagers to look at life before and after Covid, with a focus on the positive aspects we can take from the experience.

Workshop Details:

The video will begin with a short introduction to Colm and his practice and his interest in memory and perception. The workshop will also encourage teenagers to engage with Colm's exhibition, Percept, in Luan Gallery (on display in May and June 2021). Colm works in paint, print, design and collage and will give teenagers a great insight to a wide selection of mediums.  

Method:
• Photographs (digital and physical) are gathered as research material, print out a selection of four or five images if possible.
• Colm will begin by making a drawing from these images, explaining how he chooses an image and object. This stage can continue into a series of preparatory drawings until I find one that I think works well. (Colm will provide a link to relevant artworks from history, that look at collage and drawing for inspiration)
• When the drawing is complete Colm will then demonstrate how to apply colour using paint and another using colouring pencils.

Materials required:

• A3 sheets of paper, or A4 if materials are limited. If at all possible A3 card is preferable.
• regular pencil and eraser
• colouring pencils
• acrylic or poster paint
• paint brushes, mixing plate, jar of water for cleaning

This workshop is supported by Creative Ireland and Westmeath County Council.
<!-share feature-->
Share this

Share on Facebook

Tweet This