Exhibitions
Free Virtual Printmaking Workshop for Children 4 – 7 years with Gerard Greene for Cruinniú na nÓg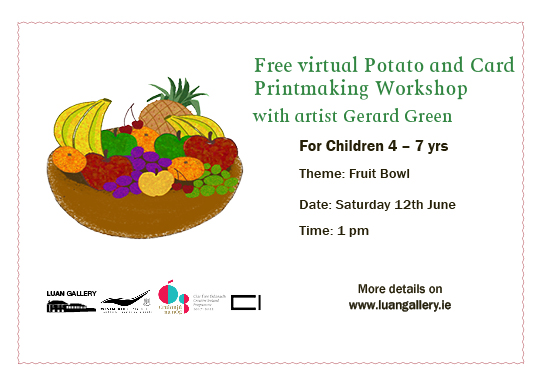 posted: Apr 21
Supported by Creative Ireland and Westmeath County Council.

Age Group: 4- 7 years 
Date: 12th of June 2021
Time: 1pm
How to join: The pre-recorded video will be published on the Luan Gallery website and social channels at 1pm.
Artist Gerard Greene will provide a pre-recorded tutorial on how to make prints using potatoes, watercolour pencils, a biro, a small craft knife and poster paint. 

This workshop is inspired by the various colours, shapes of fruit found in the common fruit bowl such as apples, oranges, bananas, pears etc. The focus of this instructional video is to encourage children age 4 – 7 years to dabble in the art of pattern- making using printmaking techniques.
Workshop Method

• Potato blocks are drawn on with watercolour pencil, or scratched on with a biro, and the fruit shapes cut ready to print with poster paint.
• A round or other shaped bowl is drawn or, paper cut out, glued to the paper sheet, and the fruit printed within the bowl.
• Fruit shapes are drawn on cardboard and cut out and inked to print with.
Pattern Making
Fruit shapes printed in patterns
Format

Gerard will demonstrate the materials and method on a whiteboard, or large sheet of paper and on a table.
Materials 

Potatoes, Watercolour pencil, Biro, Small kitchen knife, a good pair of scissors,
Poster paint various colours: Yellow, Red, Blue, Green, White, Black, Brown. PVA glue. Cartridge paper, Coloured paper, Pencils, Paint Brushes, Newspaper, Cloths, Small plates, 
Note for Parents:
A parent/ guardian must be present to ensure the safety of the children using the Potato and Card Printmaking online tutorial. Parents will be required to maintain adequate supervision of their children while they are working on their Potato and Card Printmaking. Parents' help may be needed with some children in preparing crafts, particularly when they need to use scissors/small kitchen knife.
The workshop is supported by Creative Ireland and Westmeath County Council.
<!-share feature-->
Share this

Share on Facebook

Tweet This