Exhibitions
'Delicate Matter' by Karen Donnellan, Jennifer Hickey and Liz Nilsson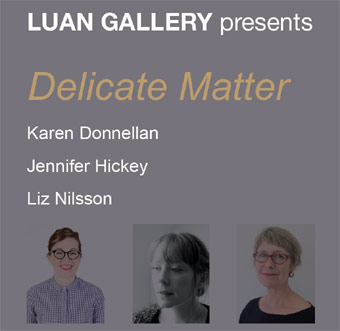 posted: May 03
Luan Gallery is delighted to present Delicate Matter an exhibition showcasing the superb talents of Karen Donnellan, Jennifer Hickey and Liz Nilsson throughout July and August.
Delicate Matter will invite the viewer to explore the tactile beauty of carefully crafted sculpture and installation works in glass, porcelain and textiles. These works are inspired by the delicate matters concerning human existence such as:
- the metaphysical which, along with energy and light, inspires Karen Donnellan's works in glass
- the relationship between nature and the human spirit – which informs the china sculptures of Jennifer Hickey, and 
- the mental architecture of memory - which inspires Dublin based designer Liz Nilsson's conceptual installations 
Together these works will present audiences with both a literal and conceptual feast of Delicate Matter.
Delicate Matter will see each artist occupy a solo space in the gallery. Jennifer Hickey's works in porcelain and bone china will fill the New Gallery Space and Karen Donnellan's glass structures will play with the light in the River Gallery while the fantastic textile works of Liz Nilsson will feature in the Library Gallery, a nod to its former connection with the Athlone Woollen Mills.
The exhibition was officially launched on Friday 3rd July at 6pm. The exhibition will run until 30th August 2015
<!-share feature-->
Share this

Share on Facebook

Tweet This