Exhibitions
Daniel Chester, Gary Robinson and Paul Roy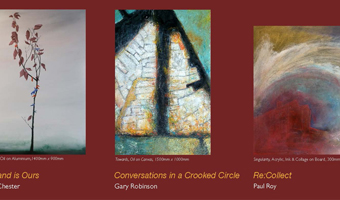 posted: Mar 11
Luan Gallery is delighted to present a three man show for the months of May and June at Luan Gallery. Showcasing the works of three male artists from the midlands region: Daniel Chester, Gary Robinson and Paul Roy, this exhibition explores themes of consumption, conversation and memory.
Featuring three distinct exhibitions of work, each artist occupies a solo space in the gallery. With Leitrim's Chester allotted the River Gallery, Longford's Robinson taking residence in the Library Gallery and Westmeath's own Roy filling the New Gallery space, these exhibitions show a variety of works in mixed media.
Though innately different in style and approach, there are common threads throughout this three man show. Each artist looks at landscape, environment and memory and the human experience of the same and offers unique responses to the themes.
A mixture of painting, photo-imaging, installation and text all feature in this exhibition, altering the physical environment of the gallery spaces.
The exhibition will officially launch on Friday 1st May at 6pm with a wine reception, all are welcome to attend. Exhibtion will run until 26th June 2015
<!-share feature-->
Share this

Share on Facebook

Tweet This