Exhibitions
Storylines at Luan Gallery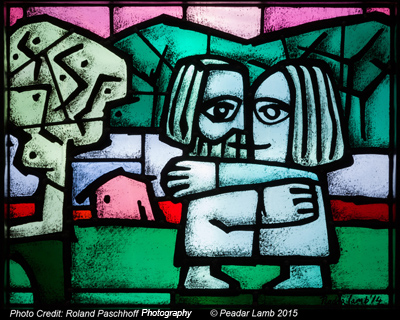 posted: Jun 08
Luan Gallery is delighted to announce its summer 2016 exhibition entitled Storylines, which was launched on Friday 24th June and will continue until 13th August 2016.

Featuring the works of 4 contemporary Irish artists, Storylines will showcase the works of painter Gordon Farrell; stained glass artist Peadar Lamb; and graphic art and design duo James and Michael Fitzgerald - The Project Twins.

Looking at narratives in art, Storylines presents an array of artworks with varying levels of storytelling and translation. Aedín McGinn, Curator states:

'Traditionally, stained glass and painting have always been closely associated with storytelling - evolved to communicate narratives of religion, patronage, and power while in today's digital era the use of graphic icons have invaded written language with logos, emoticons and emojis forming a whole new wordless tongue.

The Storylines exhibition highlights the diverse ways in which these four artists engage narrative through the mediums of painting, stained glass and graphic art. Juxtaposing traditional methods with contemporary themes and vice versa, Storylines examines the effectiveness of translating narrative through visual means.'

The paintings presented by Longford artist Gordon Farrell are inspired from the stories contained in the Lebor Gabála Érenn (The Book of the Taking of Ireland), a loose collection of poems and prose narratives recounting the mythical origins and history of the Irish from the creation of the world down to the Middle Ages.

Cork based artist Peadar Lamb's stained glass works use hand-made glass and a variety of techniques, some of which have changed little since the 11th century, such as acid etching, painting and staining to create contemporary unique pieces.

The Project Twins' use of minimal forms and bold shapes are rooted in the visual language of graphic design and semiotics. The Cork based pair are interested in the use of a universal language and its ability to convey ideas, information and narratives.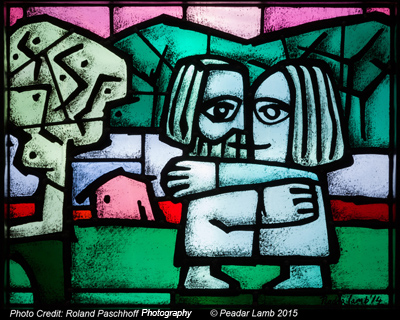 From illustrative painting and conceptual design to minimal geometric symbolism, Storylines examines the communicative power of visual art in a modern era.

The exhibition was officially launched on Friday 24th June with a wine reception. The exhibition will continue until 13th August 2016.
<!-share feature-->
Share this

Share on Facebook

Tweet This