What's On — Events, Workshops, more...
All 4 Design Artists' Talk in Luan Gallery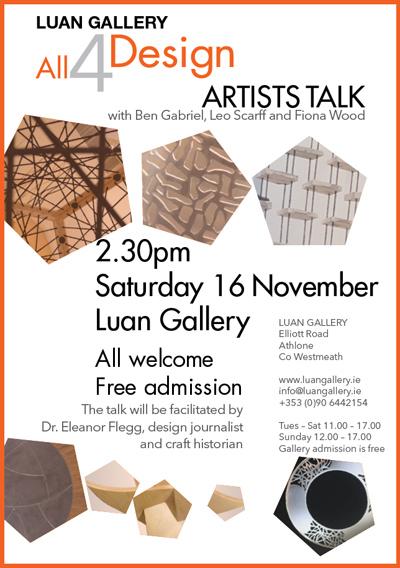 posted: Nov 09
Luan Gallery will host an 'Ask the Artist Talk' with Ben Gabriel, Leo Scarff and Fiona Wood who are three of four currently exhibiting designers. The talk will be mediated by design writer and journalist, Dr. Eleanor Flegg.

All 4 Design, which is currently running at Luan Gallery, is a design-based exhibition encouraging people to take a curious outlook into the materials, the methods and the ideas behind the objects on display. The designers present thought-provoking and distinctive works in furniture, jewellery, carpentry, taxidermy and textiles, which have completely transformed the three gallery spaces at Luan.

The designers will discuss the concepts and use of materials involved in their work featured in the exhibition, as well observing and responding to their work being placed and viewed in a gallery context. The conversation will be facilitated by Critical Writer, Dr. Eleanor Flegg. Eleanor is a regular design columnist with the Irish Independent, a columnist for the Irish Arts Review and the Sunday Times and has served as editor of numerous design and decor magazines.

The Artists' Talk promises to be an intriguing conversation and celebration of technical craftmanship, as the work of the artists is a testament to the masterful abilities of each designer. The textile artist, designer and multi-disciplinary artist use their practice to achieve beautifully crafted functional objects through skilful labour, informed by the process of making and observing art. All 4 Design introduces its audience to the freedom of art, how artists can expand from their practice and create work that is often not found in a traditional gallery space.

The Artists' Talk is suitable for second and third level students, art teachers, artists, art enthusiasts and anyone with an interest in learning more about the work. This talk will provide attendees with the opportunity to learn from and engage with the artists and to also gain an insight into their work and practice. It is a relaxed, informal event and engagement from the audience is welcome; there will be plenty of opportunities to ask questions and join in the discussion.

The Artists' Talk takes place on Saturday 16th November at 2:30pm. Exhibition continues until December 1st 2019. Free Admission. Open Tues– Sat 11.00 – 17.00, Sun 12.00 – 17.00. 

For further information, call Luan Gallery on (090) 64 42154 or email info@luangallery.ie.
<!-share feature-->
Share this

Share on Facebook

Tweet This