What's On — Events, Workshops, more...
Artists' Talk - Re-imagine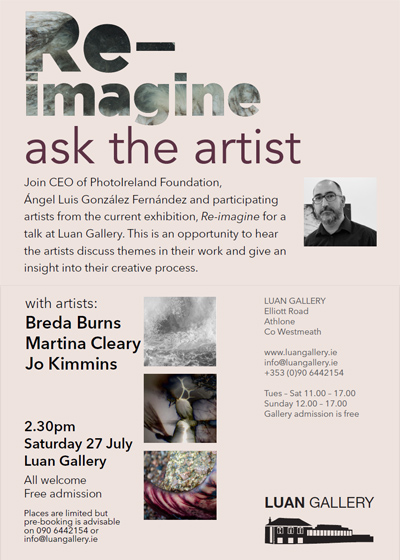 posted: Jul 07
Artists Talk - Ask the Artists
Facilitated by Ángel Luis González Fernández 

Luan Gallery is delighted to welcome photography artists; Breda Burns, Jo Kimmins and Martina Cleary to take part in an Ask the Artist Talk mediated by founder and CEO of PhotoIreland Foundation, Ángel Luis González Fernández. This event will take place on Saturday 27th July 2019 at 2:30pm.

Join Ángel and the exhibiting artists as they discuss the intriguing concepts and photography techniques used in their exhibition Re-Imagine in Luan Gallery. In recent years the camera has become a valued tool for artists as it allows them to capture sacred moments in time and document the ever-changing atmosphere of all that surrounds us. During this talk Ángel, Martina, Breda and Jo will discuss their passion for photography and all the information they gained through the camera.

Simon Daly, Assistant Manager, Luan Gallery says:
"This is a chance to engage with the artists and listen to them discuss the processes and thoughts behind their bodies of work. The Artists Talk will include a walk-through of the exhibition which will further stimulate discourse. So, mark your calendars and join us for what promises to be an entertaining and informative conversation!"

This talk will give art and photography enthusiasts an opportunity to meet the artists behind the lens and learn about whales, Celtic Ireland Shamanic rituals and the beautiful seascapes around Mayo brought alive in our riverside setting.

In the Library Gallery, Jo Kimmins exhibits her studies of the decomposition of a sperm whale carcass which she found at Netherstown Beach, Co. Wexford. By photographing this carcass Jo captures the unexpected beauty of the creature and documents the transformation of the whale as it's sinews, skin and blubber begin to disintegrate into a planetary like landscape before returning to the sea.

Breda Burn's photographic images can be seen in the River Gallery. These photographs focus on the seascapes of Mayo and by using the panoramic setting on her phone she links the land that she calls home to the sea that surrounds it. By photographing a variety of locations along the coast of Mayo, she demonstrates that familiarity in a space can provide us with a sense of home and place.

Martina Cleary's installation in the new gallery space provides us with plenty to think about as she portrays her research on neo-pagan shamanic rituals through projected imagery. Her work creates a surreal atmosphere that provides the viewer with a new experience and an insight into Martina's research on Celtic neo-pagan beliefs.

Mediator Àngel is dedicated to stimulating a critical dialogue around Photography in Ireland and to promoting the work of Irish-based artists on an international level. His passion for photography and his interest in the work of other photographers makes him the ideal candidate to facilitate this event

This Artist's Talk takes place on Saturday 27th July at 2:30pm in Luan Gallery. All are welcome to attend, free tea and coffee served. Places are limited, pre-booking is advisable.

For further information contact us at: 09064 42154 or email us at info@luangallery.ie
Share this

Share on Facebook

Tweet This