What's On — Events, Workshops, more...
Athlone Castle Medieval Fayre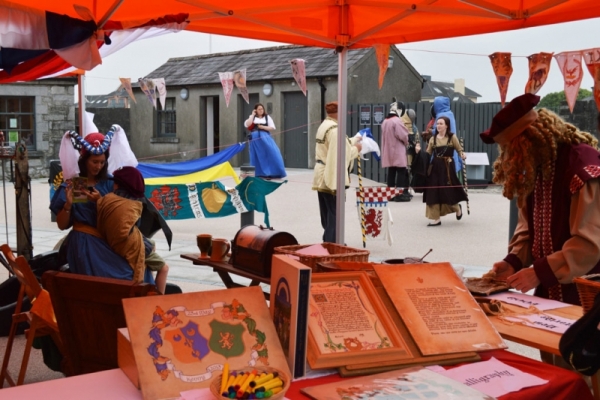 posted: Aug 10
In collaboration with the Society for Creative Anachronism, Athlone Castle will be hosting its seventh annual Medieval Fair on the 31st August and 1st September 2019. Running in conjunction with the Athlone RNLI River Festival and supported by the Heritage Council this years' fair will be a celebration of living history, music and dance.

Commencing with a festive daily parade from the Athlone Band Stand across the River Shannon towards Athlone Castle, the town and castle will be a hive of activity with complimentary events and activities for all the family. Through collaboration with the Society for Creative Anachronism and living history merchants and facilitators, visitors will get an opportunity to step back in time and experience a busy medieval fair in action. 

Athlone Castle will treat visitors to falconry displays from Animal Magic, music and dance from Galway Early Music and live displays of medieval weaponry with Michael Moylan of Irish History Live, weaving and spinning with Susanna Anker, historical bow making with Jack Pinson and a host of other medieval activities provided by the Society for Creative Anachronism and the Athlone Castle team which include; drop in children's workshops, archaeological digs, face-painting, food tasting, fencing, hobby horses, medieval games, children's archery, dress-up and much more besides.

Sue Callaghan, better known in the Society for Creative Anachronism under the alias of The Viscountess Susannah of York, explains that: "The Society for Creative Anachronism is a worldwide organisation.  We don't just study history, we live it.  We bring colour and costumes to the fair. Join us for dancing, games, and crafts." It really promises to be a treat for the senses and Athlone Castle is delighted to host this years' Medieval Fair.

The Medieval Fair will be primarily located in the courtyard and upper battlements of Athlone Castle and will be open on both days from 11am to 5pm. Tickets will be available on the gate and visitors will have access to the fair and the castle visitor centre all day. Admission prices are: Adult single €8, Student/Senior €6, Child €3, Family (2Ad & 2Ch) €20, Extra Child €1.50

Supporting events have been added to the Medieval Fayre Programme this year including; Falcon Making Arts & Crafts workshops at Luan Gallery, West Bank Arts, Food and Craft Market, Walking Tours of Medieval Athlone, Exhibitions at Luan Gallery and the Civic Centre and a talk on the History and Origins of Athlone Castle by Author, Dr Rory Sherlock.

Advance bookings can be made on www.athlonecastle.ie and full details of the programme of events will also be available on the website in the weeks leading up to the fair.
<!-share feature-->
Share this

Share on Facebook

Tweet This