What's On — Events, Workshops, more...
Athlone Castle School Tours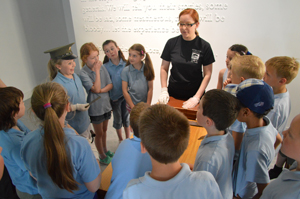 posted: Jan 13
At Athlone Castle Visitor Centre & Museum we provide an interactive, engaging learning experience for students as part of our Educational Programme.

Located in the heart of Ireland on the banks of the River Shannon, the Castle dates back to the 12th century and it still stands at the gateway to Connaught.

Featuring 8 separate exhibition spaces, Athlone Castle Visitor Centre tells the story of the history of Athlone and its people. From the town's earliest Neolithic settlers, through to the Siege of Athlone and onto the inventive industrial age, the history of Athlone is explained through illustration, text, interactive, audio visual exhibitions and games which facilitate multi-learning experiences.

Our guided school tours assist in bringing our local heritage to life. They encourage interaction and engagement amongst students. A day away from the classroom can be fun and informative. We strive to ensure that a visit to Athlone Castle provides a rich and engaging learning opportunity to children.

Athlone School Tour options focus on three key themes;
a) Early Athlone b) Athlone Besieged c) Fabric of Athlone
Alternatively, a school group can take the castle tour in its entirety

All school tour groups must be accompanied by teachers (ratio of 1-10)
Athlone Castle has a no bags policy

For more details, tour rates and to book your school tour please contact Athlone Castle on 09064 42130 or email info@athlonecastle.ie
<!-share feature-->
Share this

Share on Facebook

Tweet This