What's On — Events, Workshops, more...
Children's Christmas Workshop with Rosemarie Langtry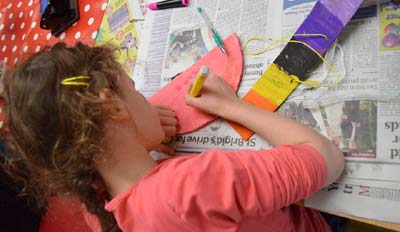 posted: Nov 09
Location: Luan Gallery, Elliott Road, Athlone
Date: Saturday 30th November
Times: 12:00pm – 1:15pm (4- 7 years)
2:00pm – 3:15pm(8-12 years)
Cost: €10 per child

Rosemarie Langtry is searching for creative little helpers to join her as she makes Christmas cards, Santa hats and Christmas decorations on Saturday 30th of November in Luan Gallery.

Luan Gallery wish to invite all young budding artists to join Rosemarie as she creatively prepares for the Christmas season. Ensure your home is filled with originality as participants learn how to make their own decorations from inexpensive materials such as paper and pine cones. 

Impress Santa with original decorations and Santa hats, show him all the thought that has been put into wishing others well over the Christmas, he might just spot the Christmas card that was made for mammy and daddy sitting on top of the mantelpiece.  
This Workshop promises to bring fun and joy to all participants as they create everything they need for the special occasion. Participants can decorate the Christmas tree while singing their Christmas tunes as they wear their uniquely designed Santa hats.  

All Children aged 4- 12 years are welcome to attend this magical workshop on Saturday 30th of November. 4- 7 years are set to join us from 12:00 – 1:15 pm and children aged 8- 12 years to join us from 2:00 – 3:15 pm. This workshop costs €10 per child.

Pre-Booking and pre- payment required, contact Luan Gallery on 090 6442154.

Wishing you all a Happy, Creative Christmas from Luan Gallery Team
<!-share feature-->
Share this

Share on Facebook

Tweet This