What's On — Events, Workshops, more...
Children's Summer Workshops; The Strawberry Thief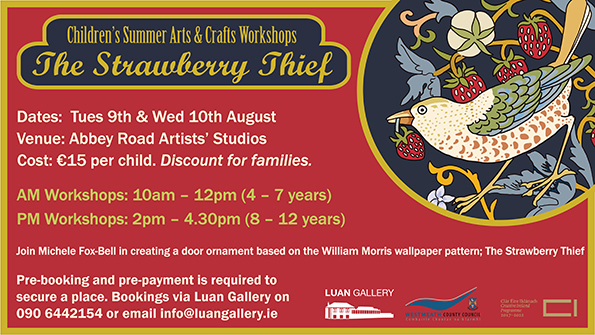 posted: Jul 30

Dates: Tuesday Aug 9th and Wednesday Aug 10th
Venue: Abbey Road Artist Studios, Abbey Road, Athlone

AM workshop: 10am – 12noon (Kids 4-7 years, 2 hours) on both days
PM workshop: 2pm-4.30pm (Kids 8-12 years, 2.5 hours) on both days
Cost: €15.00 per child. Discount for families.
Children's Arts and Crafts workshops - create a door ornament with artist Michele Fox-Bell, based on a famous wallpaper pattern.
Workshops take place Tuesday 9th and Wednesday 10th August at Abbey Road Artists' Studios.
Workshops for children 4-7 years are 10am-12pm both days. Workshops suitable for older children 8-12 years are 2pm-4.30pm both days.
Cost per child is €15.
Bookings via Luan Gallery on 090 6442154 or email info@luangallery.ie
Pre-booking and pre-payment is required to secure a place. Contact Luan Gallery on 090 6442154 or info@luangallery.ie
<!-share feature-->
Share this

Share on Facebook

Tweet This