What's On — Events, Workshops, more...
Colm Mac Athlaoich in Conversation with John Graham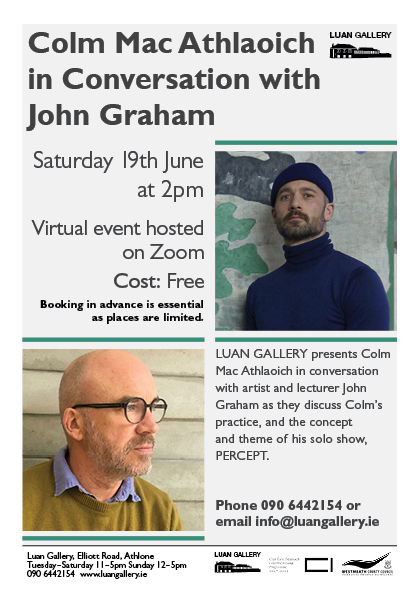 posted: Jun 03
Join exhibiting artist Colm Mac Athlaoich in conversation with John Graham, artist, lecturer

Date: Saturday 19th June 2021
Time: 2pm
Location: Virtuall event hosted on Zoom
Cost: Free

Luan Gallery is delighted to bring you a virtual event with exhibiting artist, Colm MacAthlaoich.

MacAthlaoich is currently showing a body of new work at Luan Gallery in an exhibition entitled PERCEPT. To accompany this exhibition, we will host a facilitated virtual artist's conversation on Saturday 19th June at 2pm. The artist will discuss his practice, the work featured in the exhibition and his interest in perception with fellow artist and lecturer, John Graham.

As always during these meet the artist events, engagement from the audience is welcome and there will be opportunities to ask questions and join in the virtual discussion. 
This event will be a fantastic opportunity to listen to Colm Mac Athlaoich talk about his work and this session promises to be a relaxed, entertaining, enjoyable and informative discussion and is one not to be missed!

Please contact info@luangallery.ie or call Luan Reception on 090 6442154 to express your interest in attending. Spaces are limited, it is advised to book your space early to avoid disappointment.

This workshop is supported by Creative Ireland and Westmeath County Council.

<!-share feature-->
Share this

Share on Facebook

Tweet This