What's On — Events, Workshops, more...
Culture Night – Abbey Road Artists' Studios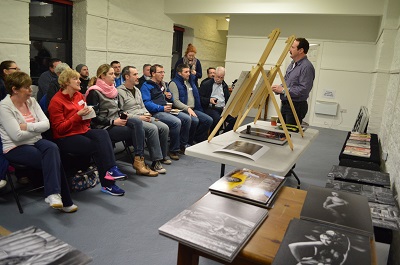 posted: Sep 04
Athlone Photography Exhibition
Athlone Photography Club was founded in 2013 by a few photography enthusiasts.  The club started with around 30 members at the time and has since grown to a membership of over 50.
The club primary focus to provide a learning environment for all members regardless of their photographic skills, carried out in a friendly and respectful environment. 
The club runs from September to June; meets every second Wednesday and runs presentations, practical, guest speaker appearances and outings for their members.
The club is affiliated with the Irish Photographic Federation (IPF) and competes at National levels against other photography club and was the winner of the National Shield in 2015, a competition dedicated to novices and intermediate level.  It also finished for the first time in the top 10 (08th overall out of 26 clubs) at this year's edition of the National Club Finals which is for more advanced and skilled photographers.
The exhibition showcases images from our members across the wide range of subjects that can be photographed, from Portraiture, to Landscape, Creative Art and Nature.
The studio will be opened for viewing from 17:00 until 20:30.
Meet the Resident Artists on Culture Night!
Over the Shannon at Abbey Road Studios, visitors will have the chance to experience the Open Studios from 4pm to 8pm, providing a unique, behind-the-scenes view of the artists' practice in their studios. Our resident artists will be on hand to showcase some of their old and new work, and to explain their working process and inspiration to members of the public. 
<!-share feature-->
Share this

Share on Facebook

Tweet This