What's On — Events, Workshops, more...
Educational tours and workshops at Luan Gallery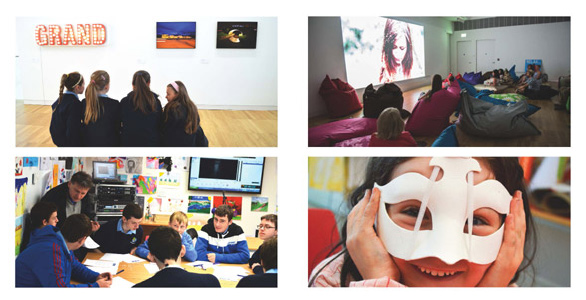 posted: Nov 24
LUAN GALLERY SCHOOL TOURS
At Luan Gallery we aim to promote access, understanding and engagement with visual art via the growing Education Programme.

Luan Gallery staff strive to support the meaningful delivery of arts education within the primary school curriculum. Teachers are encouraged to bring student groups to Luan

Gallery to view the exhibitions in the company of gallery staff.
Luan Gallery staff present exhibition tours and education packages which introduce a variety of tools to foster pupils' comfort with art and the gallery environment.

This in turn encourages young people to find enjoyment and meaning in art, and to think critically. The provision of thought provoking exhibition programmes teamed with talks, workshops and tours, pave the way for discourse, engagement and learning.
Primary Group Offers

Guided Tours - Luan Gallery offers free guided gallery tours for groups (booking required)

Group Workshops - pupils are invited to engage in art making in the Luan Gallery

Workshop (booking required, €2.00 per pupil )
Catalogues - exhibition literature is available to bring back to the classroom for further discussion

Abbey Road Artists' Studio Visits - pupils can meet a professional artist in their studio and learn about this unique environment (booking required)

Activity Sheets - Luan Gallery develops education activity packs to accompany each exhibition. These can be completed on site or back in the classroom (booking required, €1.00 per pupil)
For more information or to book, please call 09064 42154 or info@luangallery.ie
<!-share feature-->
Share this

Share on Facebook

Tweet This