What's On — Events, Workshops, more...
How to Make an Impact Online with Emma Dwyer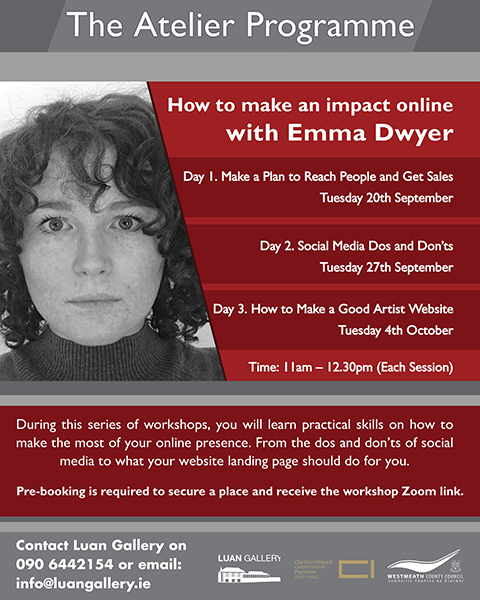 posted: Sep 13
***All Workshops are Fully Booked**
Dates: 
Day 1: Make a Plan to Reach People and Get Sales 
Tuesday 20th September

Day 2: Social Media Do's and Don'ts
Tuesday 27th September

Day 3: How to Make a Good Artist Website
Tuesday 4th October

Online via Zoom.


Luan Gallery will host an online workshop series on 'How to make an impact online' with Emma Dwyer as part of the Atelier Programme 2022.

Workshops are Free and will be hosted via Zoom from 11am – 12.30pm (each session)

During this series of workshops, you will learn practical skills on how to make the most of your online presence. From the dos and don'ts of social media to what your website landing page should do for you.
Pre-booking is required to secure a place and receive the workshop Zoom link.
Contact Luan Gallery on 090 6442154 or info@luangallery.ie
This series of workshops is supported by Creative Ireland and Westmeath County Council

<!-share feature-->
Share this

Share on Facebook

Tweet This