What's On — Events, Workshops, more...
Luan Gallery Atelier Programme 2020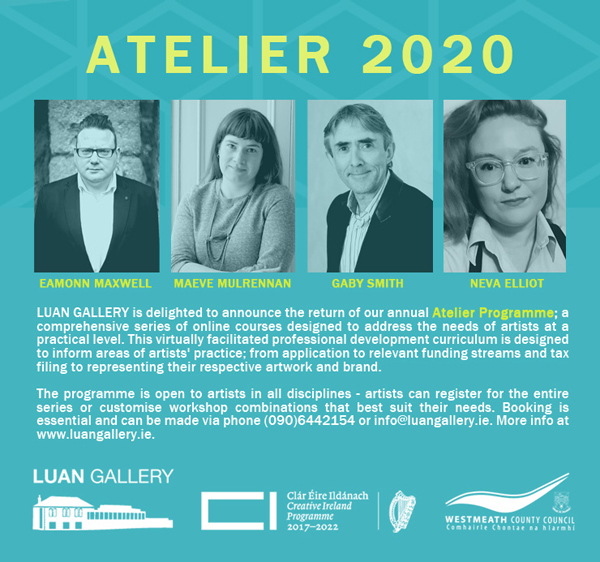 posted: Aug 21
SEPTEMBER - OCTOBER

LUAN GALLERY is delighted to announce the return of our annual Atelier Programme; a comprehensive series of online courses designed to address the needs of artists at a practical level. This virtually facilitated professional development curriculum is designed to inform areas of artists' practice; from application to relevant funding streams and tax filing to representing their respective artwork and brand.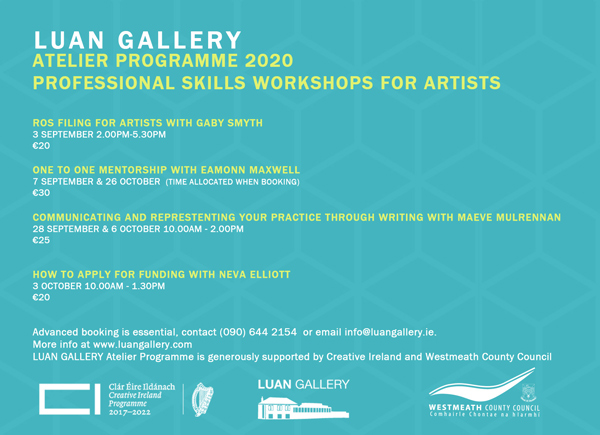 Communicating and Representing your Practice Through Writing with Maeve Mulrennan
Dates: 28 September & 6 October 10.00AM - 2.00PM
Cost: €25
BOOK SOON – 1 PLACE AVAILABLE
How to Apply for Funding with Neva Elliott
Date: 3 October 10.00AM - 1.30PM
Cost: €20
BOOK SOON – 1 PLACE AVAILABLE

The programme is open to artists in all disciplines - artists can register for the entire series or customise workshop combinations that best suit their needs. Booking is essential and can be made via phone (090)6442154 or info@luangallery.ie. 
The LUAN GALLERY Atelier Programme is generously supported by Creative Ireland & Westmeath County Council.
<!-share feature-->
Share this

Share on Facebook

Tweet This