What's On — Events, Workshops, more...
Mandala Masterpiece with Breaking Borders artist Nicola Anthony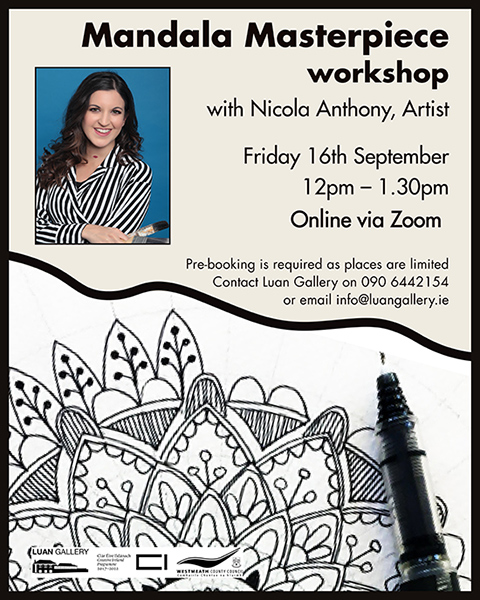 posted: Sep 07
Luan Gallery will host an online Mandala Masterpiece workshop with Nicola Anthony on Friday 16th September.
Free online workshop via Zoom from 12pm to 1.30pm.
You will be taught and guided in a step-by-step lesson by Nicola, leading to a beautiful mandala and a practice that you can take away with you and continue in your own life whenever you want to feel calm or create something impressive.
Mandala drawing has become popular in recent years as a fun and calming activity, and originates in spiritual practices where a mandala is said to represent the entire Universe, and can be an exercise in reunifying the self.
Prebooking is required to secure a place and receive the workshop Zoom link.

Contact Luan Gallery on 090 6442154 or email info@luangallery.ie

This workshop is supported by Creative Ireland and Westmeath County Council.

<!-share feature-->
Share this

Share on Facebook

Tweet This