What's On — Events, Workshops, more...
Meet Santa and Mrs. Claus at Athlone Castle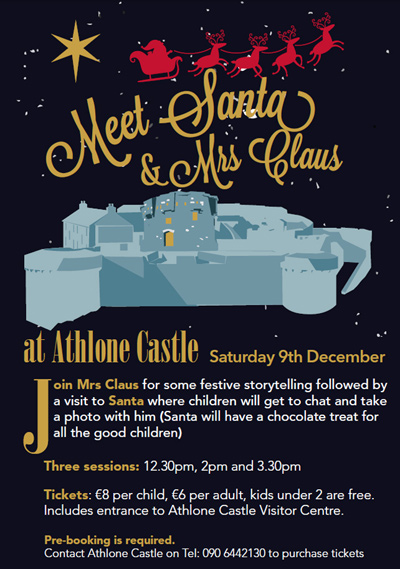 posted: Nov 29
Sleigh bells will be ringing loudly over Athlone Castle on Saturday 9th December as Santa and Mrs. Claus visit the castle to meet the boys and girls from the town and surrounding areas.

Children and their parents will be welcomed and escorted by Santa's helpers to meet Mrs. Claus. She will regale them with lots of festive stories about Santa, his elves and reindeers, helping others during the season of goodwill and lots more about all the adventures from the North Pole.

Following on from Mrs. Claus' storytelling, children will enter the castle visitor centre through our Christmas shop and café area and follow a festive trail which leads to jolly old Santa Claus himself in the upper keep of Athlone Castle. This is a great opportunity for children to have a little chat with the man himself about their Christmas list, whether they were naughty or nice this year, and a chance to get a photograph with him. Santa may also have a little surprise in store for all the good children.

Manager, Carmel Duffy, is delighted that Santa Claus will visit Athlone Castle again this year.
She said:
"Despite their very busy Christmas schedule Santa and Mrs Claus have very kindly accepted our invitation to visit Athlone Castle with they are really looking forward to meeting the boys and girls of Athlone."

Tickets include; entrance to Athlone Castle Visitor Centre, storytelling with Mrs Claus, a visit and chat with Santa and a chocolate treat and cost €8 per child, €6 per adult and children under two years are free. Families are advised that pre-booking for each of the three sessions at 12.30pm, 2pm and 3.30pm is absolutely essential to avoid disappointment as places will fill fast. The castle gift shop and café will be open and Christmas gifts and vouchers will available to purchase on the day. The visit experience will last for approx 45 minutes.

Contact Athlone Castle on Tel: 090 6442130 to purchase tickets.
<!-share feature-->
Share this

Share on Facebook

Tweet This