What's On — Events, Workshops, more...
Sa Lár; A Westmeath Artists Awards Group Exhibition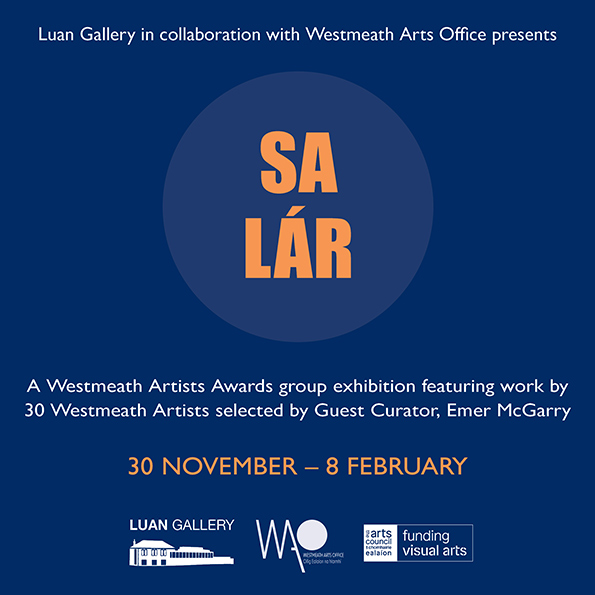 posted: Nov 17
Luan Gallery in collaboration with Westmeath Arts Office presents SA LAR, Westmeath Artists' Awards Exhibition featuring works by thirty Westmeath artists selected by guest Curator, Emer McGarry, Director of The Model, Sligo. The Westmeath Artists Awards Show is a collaboration between Luan Gallery and Westmeath Arts Office aiming to celebrate, showcase and support the development of Westmeath visual artists' practices and careers and is supported by the Arts Council of Ireland.

Over forty works by thirty artists will be showcased in the exhibition, with several of the artists exhibiting for the first time in Luan Gallery. Westmeath artists selected for exhibition include Anne Marie Burke, Eoin Butler, Rachel Marie Cleary, Martina Coyle, Rachel Coyne, Alan Crowley, Jessica Daly, Bertille de Lestrade, Mark Duffy, Paul Flaherty, Mel French, Claire Guinan, Seán Guinan, Tina Hayes, Fiona Kelly, Hilary Kinahan, Keely McLavin, Kevin Meehan, Lorraine Mimnagh, Muiris Moynihan, Aishling Muller, EL Putnam, Amanda Ralph, Catherine Rock, Paul Roy, Celine Sheridan, Annette Treacy, Lorcan Walshe, Keith Watts, Ann Wingfield.

The launch takes place on Thursday 30th November at 6pm and all are welcome to attend. The exhibition will continue until Sunday 8th February 2024 with seasonal closures from 20th to 27th December inclusive. Luan Gallery is open Tuesday – Saturday 11.00 – 17.00 and Sundays 12.00 – 17.00. Admittance to Luan Gallery is free and guided tours are available to all at no cost. More information on the exhibition and upcoming events can be found at http://www.athloneartsandtourism.ie/luan-gallery/ and on Luan Gallery's social channels.

<!-share feature-->
Share this

Share on Facebook

Tweet This