What's On — Events, Workshops, more...
The Atelier Visual Artists Professional Training Programme 2019

posted: Nov 28
The ATELIER VISUAL ARTISTS PROFESSIONAL TRAINING PROGRAMME is a comprehensive series of courses designed to address the needs of artists at a practical level. With support from Westmeath County Council via the Creative Ireland Initiative, the programme is open to artists from all disciplines, and artists can register for the entire series or customize workshop combinations that best suit their needs and practice. The purpose of The ATELIER PROGRAMME is to inform artists about the practicalities of administrative aspects of operating within the Irish industry. A key focus of the Programme over the past three years continues to be the desire to promote a collaborative and community of exchanging information and ideas with their peers, in a welcoming and informal setting.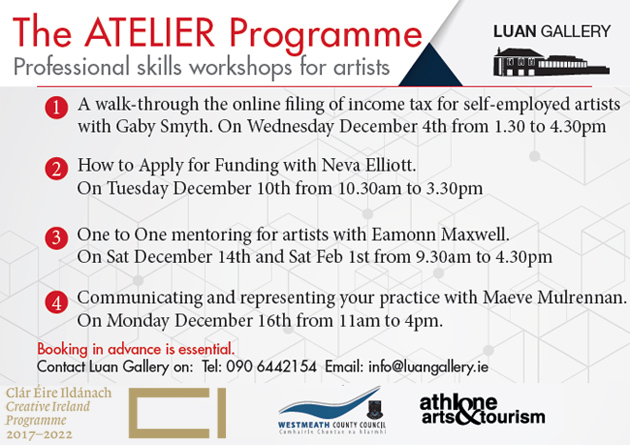 This workshops are as follows:
How to apply for funding with Neva Elliott
On Tuesday December 10th from 10.30am to 3.30pm, cost €20.
Venue: Luan Gallery


One-to-One Mentoring for Artists with Eamonn Maxwell
 [FULLY BOOKED]
On Saturday December 14th with a follow up on Saturday February 1st,
from 9.30am to 4.30pm (one hour each session) cost €30. Venue: Luan Gallery
* Limited to six participants, sessions are offered on a first come first served basis. Artists need to submit an artist's statement, CV, examples of previous work and a paragraph outlining what help, support, information or advice they would hope get from the sessions, as well as confirming their commitment to attending both sessions to info@luangallery.ie
Communicating and representing your practice with Maeve Mulrennan
On Monday December 16th from 11am to 4pm, cost €20. Venue: Luan Gallery.
Requests for further information and booking queries should be directed to Luan Gallery on: info@luangallery.ie or by phone on 090 6442154. As the programme caters for a limited number of participants only, early pre-booking is essential. 
<!-share feature-->
Share this

Share on Facebook

Tweet This