Make A Haunted House – Halloween Craft Activity
Brought to you by Luan Gallery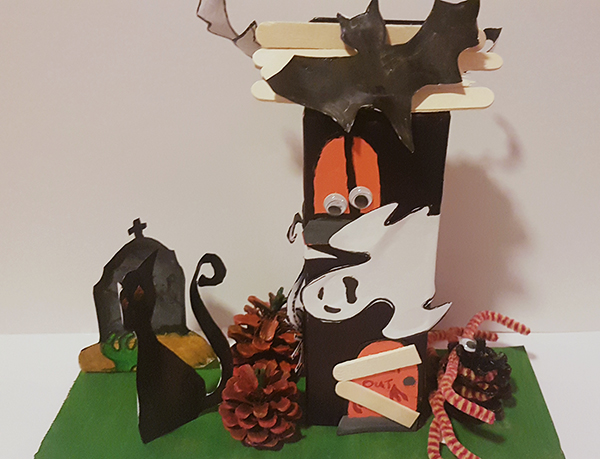 Download Make a Haunted House PDF
What you need to make a Haunted House:
1 x Empty Carton    
1 x Strip of Cardboard    
Lollipop Sticks   
Paper  
Paint     
Pencil     
Scissors    
Pine cones     
Pipe Cleaners     
Googly Eyes (optional)    
PVA Glue  
Double Sided Tape
 

 

 

Step 1

Paint Carton and allow to dry.

 

 

 

Step 2 

Draw, paint and cut out windows and doors on coloured or white paper.

 

 

 

Step 3 

Glue windows and doors onto all 4 sides of the painted carton using PVA glue.

 

 

 

Step 4 

Glue lollipop sticks to the top of your carton to make a roof.

 

 

 

Step 5 

If your carton has a cap, cut lollipop sticks in two and glue half a lollipop stick on either side. You can coverup the cap with a cut out image later.

 

 

 

Step 6 

Colour and cut out a selection of Halloween images. You can use the templates included on this pdf or draw your own!

 

 

 

Step 7 

Glue the Halloween cut outs onto your haunted house.

 

 

 

Step 8 

Paint your sheet of cardboard, allow for it to dry. Then stick on your carton using double sided tape.

 

 

 

Step 9 

Paint 1 or more pine cones orange with one green stem at the top to make a pumpkin.

 

 

 

Step 10 

Paint another pine cone black. Wrap 4 pipe cleaners around the black pine cone in a row to create 8 legs. Then stick on some googly eyes to make a spider.

 

 

 

Step 11 

Stick the pine cone pumpkins and spider to the sheet of cardboard using double sided tape.

 

 

 

Step 12 

Fold back the bottom of any left over cut outs and stick them onto the sheet of cardboard using double sided tape. 



Congratulations! You have made your very own Haunted House!
Download Make a Haunted House PDF
Don't forget to share your spooktacular creations with us on Facebook: LuanGallery  Instagram: @luangalleryathlone  Twitter: @Athlone AT                                 
Happy Halloween!
Note for Parents: A parent/guardian must be present to ensure the safety of the children using the online tutorials. Parents will be required to maintain adequate supervision of their children while they are working on their haunted house. Parents' help may be needed with some children in preparing crafts, particularly when they need to use scissors.