Exhibitions
All 4 Design exhibition at Luan Gallery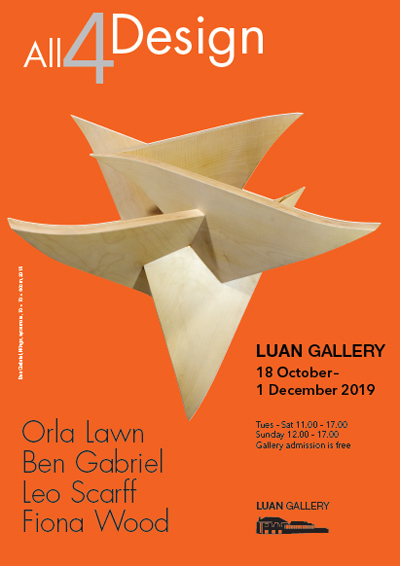 posted: Sep 27
All 4 Design features the work of design artists Leo Scarff, Orla Lawn, Fiona Wood and Ben Gabriel. 

Design journalist Eleanor Flegg opened the exhibition on Friday 18th October 2019.

Eleanor Flegg is currently a regular design columnist with the Irish Independent, a columnist for the Irish Arts Review, she has been editor of numerous design and decor magazines, a design columnist for the Sunday Time from 2004 – 2009 

As a contemporary art gallery, we aim to introduce our audiences to the wide range of art forms available to us today. The definition of art is continuously expanding as we welcome new mediums and art forms to modern society. Our upcoming exhibition All 4 Design connects the work of four designers with separate practices and shows us how different forms of design complement each another.

Within the interior of the gallery we will witness the work of furniture designer Ben Gabriel, creative designer Leo Scarff, jewellery designer Fiona Wood and textile artist Orla Lawn. 

Fiona Wood's practice stems from her curiosity of natural life and her interests in biology. She draws from Darwin's sense of the sublime, bio art and botany as she creates jewellery inspired by the growth of weeds and her admiration for their ability to grow under inhospitable conditions. Through her combination of jewellery design which reflects natural growth and her sculptural structures using taxidermy and found objects. Her work interrogates the Dutch traditions of vanitas which reflect on the momentums of carpe diem and memento mori which refer to our acceptance of our inevitable mortality, freeing us to appreciate and celebrate the subtle pleasures in life.

Leo Scarff's sculptural structures playfully interact with the architectural formation of our gallery space. The geometric forms have a dramatic presence that invites us to further explore the aesthetics of his work. Leo Scarff has been a creative designer for twenty-five years, he is a passionate promoter of art, design and architecture whose primary focus is on the functionality and the finish of his work. the creative process of creating paper models and making three dimensional visual prototypes is an important role in his decision-making process as it helps him decide on his use of materials and the objects structural logistics.

Ben Gabriel's furniture designs are developed using geometry in an innovative way, this gives his furniture a playful, artistic quality. His designs are inspired by geometry, architecture and art. The simplistic geometric patterns in Ben's work create a pleasant balance of symmetry and proportions where one shape/design is often used repetitively to create the final design. Ben's furniture is created using Irish/European hardwoods mixed with glass, metals and recycled acrylics. The process of creating, the gathering of ideas and concepts and the architectural and geometric qualities of Ben's work are what differentiates his designs from the generic furniture sold in chain retail stores. These qualities transform his furniture into works of art. 

Textile artist Orla Lawn exhibits a series of geometric blocks joined by brawny lines of thread that focus on depth of light. These blocks have a sense of playfulness as they sway in unpredictable ways to create elusive forms of shadows. By contrasting hard cast elements with soft textured materials Orla produces a surface that is familiar and welcoming, yet also cold and austere.

Geometric designs surround us in our everyday life, geometric patterns are found in architecture, nature and technology. We see these patterns everywhere we go, is it any wonder that it found its way into each of the exhibiting designer's practices? The simplicity of the exhibited work highlights the beautiful use of symmetry and proportions seen within the artists designs. 

All 4 Design continues until Sunday 30th November 2019.
Members of the public are welcome to call into see the work by the four designers.

Luan Gallery is open Tuesday – Saturday from 11.00 – 17.00 and Sundays 12.00 – 17.00. The gallery is closed on Mondays. Guided tours are free of cost and available on request to all. 
<!-share feature-->
Share this

Share on Facebook

Tweet This