Exhibitions
Elevate at Luan Gallery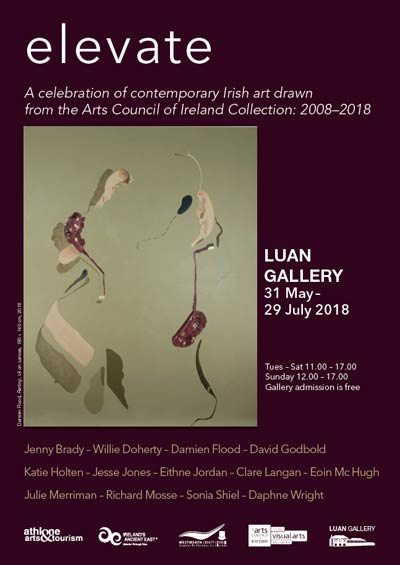 posted: May 13
A Celebration of contemporary Irish art drawn from the Arts Collection of Ireland Collection: 2008 – 2018

With a mixture of sculpture, paintings, prints and video works, this selection invites the viewer to experience the work of thirteen internationally renowned Irish Artists selected from this period.
Opening reception is at 6:00pm on Thursday 31st May. All welcome.

The exhibition will be officially opened by Orlaith McBride, Director of the Arts Council. Westmeath Arts Officer Miriam Mulrennan guest speaking.

Elevate includes works by: Jenny Brady, Willie Doherty, Damien Flood, David Godbold,
Katie Holten, Jesse Jones, Eithne Jordan, Clare Langan, Eoin Mc Hugh,
Julie Merriman, Richard Mosse, Sonia Shiel, Daphne Wright
<!-share feature-->
Share this

Share on Facebook

Tweet This