Exhibitions
Frame x Frame at Luan Gallery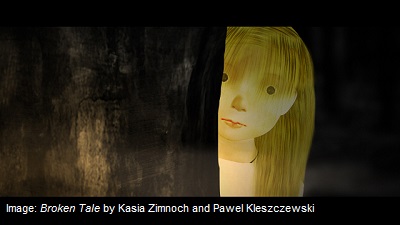 posted: Sep 15
Luan Gallery is delighted to announce its winter 2017 exhibition entitled: FRAME x FRAME, showcasing works by five Irish and European animation artists: Olga Guse, Jason Watts, Jennifer Kidd, Pawel Kleszczewki and Kasia Zimnoch.

The exhibition is presented in 4 parts featuring three distinct exhibitions of work in stop motion and 3D animation. Each artist occupies a space in the gallery with Jason Watts and Pawel Kleszczewki and Kasia Zimnoch projections housed in the New Gallery, and Olga Guse' animations sitting along the River Gallery. The Library Gallery has Jennifer Kidd's animations and a display of props and drawings, highlighting the creative process undertaken by animation artists before the end result is presented to the public.

FRAME x FRAME was launched on Friday 20th of October by Award winning Animator Aidan Hickey.
Aidan attended NCA, Kildare Street from 1961 – '65. He worked as an Art Teacher in co Dublin VEC from 1967 – 1973 while at the same time he studied part time in University College Dublin. He graduated from UCD with a BA in English and History in 1970. Aidan was awarded a Post Graduate Diploma in Film making at Hornsey College of Art in 1974. He wotked as a free lance illustrator/graphic design in Dublin from 1975 and produced graphic and animated inserts for Eamon de Buitlear's Amuigh faoin Speir wild-life series from 1977-1979. From 1978 – 1991 Aidan was Producer of Animated Films for RTÉ Children's Department; he wrote, designed, animated, and edited hundreds of episodes for series that were broadcast in over 40 countries. Aidan is currently serving as President of the Dublin Painting and Sketching Club.

Frame x Frame will continue until the 04th of December 2017.

Luan Gallery is delighted to welcome schools and groups for talks and tours throughout the exhibition run. Guided tours are free of cost and available on request to all. 

Luan Gallery is open Tuesday – Saturday from 11.00 – 17.00 and Sundays 12.00 – 17.00. The gallery is closed on Mondays.
<!-share feature-->
Share this

Share on Facebook

Tweet This