Exhibitions
Luan Gallery Art Fair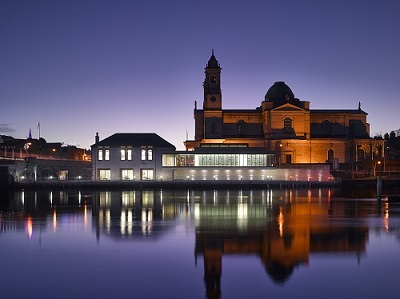 posted: Dec 01
Visit Luan Gallery's fantastic showcase of works by Midland artists
Luan Gallery is delighted to present its first Winter Art Fair, a showcase of the Midlands diverse artistic talent and a fantastic opportunity to buy a unique gift and support local artists this festive season. 
From the 2nd December to January 24th, Luan's award-winning gallery space will be brimming with over 250 beautiful works and distinctive items to suit all budgets including; painting, print, photography, encaustic, textile, multi-media, ceramics, sculpture and jewellery.
Luan Gallery is privileged to support and showcase work from 97 talented Westmeath and Midlands practitioners in its first Winter Art Fair with the support of Creative Ireland and Westmeath County Council. 
Budding collectors, treasure seekers and Christmas shoppers are invited to visit the gallery online and onsite, whilst adhering to Government health guidelines and explore a curated selection of emerging and established creative practitioners. 
Visitors can express interest or reserve work online from 2nd December to 24th January either from the Art Fair's website:  www.athloneartsandtourism.ie/artfair 
Luan Gallery will operate at a limited capacity, with social distancing measures in place throughout the premises. Visitors are required to wear masks at all time in gallery in the interest of health and safety. Hand sanitising is also required on entry, with sanitsing stations available at entry.
Luan Gallery is open to the public Tuesday to Saturday from 11am – 5pm and Sundays from 12 – 5pm. All are welcome virtually or onsite.  Don't miss this unique opportunity to view and buy local art!
For further information, contact Luan Gallery on tel: 090 64 42154 or email: info@luangallery.ie 
Participating Artists
Adrian Bannon

 

Frances Hennigan

 

Nikita Oakley

Aileen Donovan

 

Gary Keenaghan

 

Non Waters

Aly Hughes

 

Gary Robinson

 

Nuala Gorman

Angela Tuite

 

Georgia Naylor

 

Nuala Hiney

Ann Mc Guinness

 

Gerry O Connor

 

Olive Cuskelly

Ann Mina

 

Hazel Greene

 

Olivia Finn

Ann Wingfield

 

Helen Conneely

 

Paul Galligan

Anna Boles

 

Hilary Kinahan

 

Paul Roy

Aoife Shanahan

 

Holly Mulhern

 

Pauline Burke

Brid Shinners

 

Jane Walsh

 

Pauline Kinahan Kane

Caithriona Devine

 

Jill Parkinson

 

Peter Cleary

Catherine Brennan

 

Kay Murphy

 
 

Catherine Desmond

 

Laura Reilly

 

Rosemarie Langtry

Catherine Patrickson

 

Leigh Francis

 

Rosin Maher

Catherine Rock

 

Lelia Henry

 

Sandy Hughes

Celine Sheridan

 

Lesley Wingfield

 

Sarah Annemarie Boyle

Chris Quinlan

 

Liz Johnson

 

Sharon Conroy

Ciara Tuite

 

Lorna O' Neill

 

Shelley Corcoran

Claire Guinan

 

Louise Shine

 

Siobhan Cox- Carlos

Colm Noonan

 

Mai Ryan

 

Susan Mannion

David Dunne

 

Maren Palm

 

Terry Murphy

David Fox

 

Margaret Dooley

 

Theresa Whelan

David Kavanagh

 

Margo Mc Nulty

 

Thomasina Earley

Dee Mc Kiernan

 

Marian Balfe

 

Tina Hayes

Donna Marie O Looney

Mary Rushe

 

Tomás O'Maoldomhnaigh

Dympna Bonfield

 

Matthew Gammon

 

Úna Cahill

Ellen Rose Wallace

 

Megan Byrne

 

Ursula Ledwith

Emma Mc Guire

 

Mel French

 

Vernice Darnley

Eoin Butler

 

Michael Scheppach 

Veronica Nicholson

Erica Redmond

 

Michele Fox-Bell

 

Yassine Imejjat

Fiona Kelly

 

Mimi Seery

 

Zienab Elghayesh

Fiona Woods

 

Nasrin Golden

 
 

Frances Crowe

 

Niamh Dalby

 
 
<!-share feature-->
Share this

Share on Facebook

Tweet This