Exhibitions
Luan Gallery presents Other Dimensions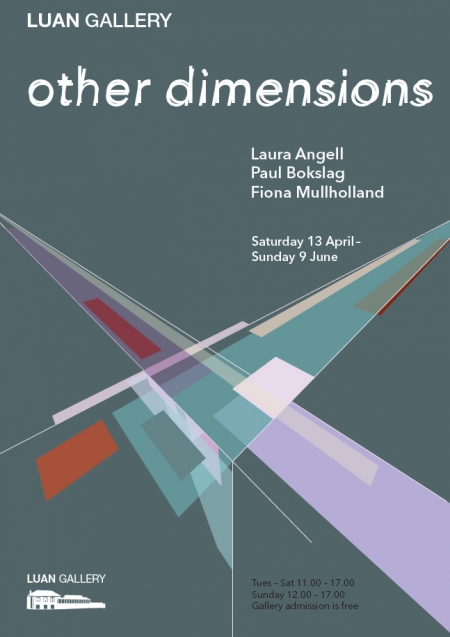 posted: Mar 12
Other Dimensions is a three person exhibition featuring installations by multi-disciplinary artists Fiona Mulholland, Laura Angell and Paul Bokslag.

Other Dimensions opens our eyes to the constant growth in contemporary art as Paul, Fiona and Laura demonstrate the innovative ways in which artists construct artwork through unconventional materials. Observe the textile artist, the graphic designer and the Sculptor expand their socially engaged practice to include site-specific installations with wool & mixed media, paper cutting installations and configurations made from mass-produced materials. 

Witness the ever changing light patterns dance around the gallery space as the sun glistens through Paul's unique cut out formations of hanging paper. The aesthetic qualities of space, time and light are experienced through interaction with the work .Fiona uses fluorescent lights and reflective surfaces to create a space between the imagination and reality, this acts as a place where one can go to reflect on their thoughts as they escape the constant demand of a restless society. Laura creates large knitted ornaments to reflect on how anxieties caused by social expectations have always been an underlining issue in society. Comparing former generations need to impress their peers by displaying embellished ornaments around their homes to our generations need to gain verification through the amount of 'likes' we get on Facebook. 

Other Dimensions was officially launched by Joanne Laws on Friday 12th of April. Joanne is a featured editor of the Visual Artists News Sheet and manages the VAI Artists Publication Archive. She is an arts writer whom regularly contributes to a range of Irish International publications including Art Monthly and Frieze. 

The exhibition will continue until 9th of June. Luan Gallery is open Tuesday – Saturday 11.00 – 17.00 and Sundays 12.00 – 17.00. Admittance to Luan Gallery is free of cost and guided tours are available to all at no cost.
<!-share feature-->
Share this

Share on Facebook

Tweet This