Exhibitions
LUMA by Helen Mac Mahon and ENCOUNTERS by Nerosunero at Luan Gallery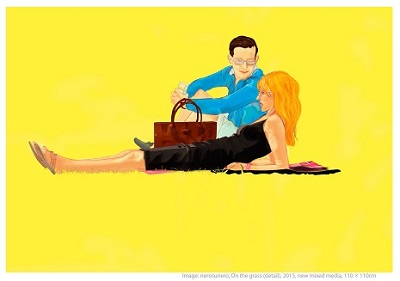 posted: Jun 19
Light installations and digital art on show for the summer at Luan Gallery.

Luan Gallery will present two exhibitions side by side for the months of July and August. Luma by Helen Mac Mahon will feature in the New and River Gallery spaces while Encounters by Mario Sughi will be shown in the Library Gallery. 

Dublin based artist Helen Mac Mahon uses light as a catalyst throughout her practice. Utilising a mixture of sculptural elements with natural and artificial light, Helen creates a compilation of art installations which generate a myriad of light effects resulting in an interactive art viewing experience. The artist will create large metal mesh installations to hang across the vast window spans of Luan's River Gallery, referencing the reflections of light on the surface of the Shannon waters below. In the New Gallery the artist will display a series of 'light paintings' and sculptural works that all play with light and perception. 

Against these light based works will hang the digital paintings of artist nerosunero. Dublin based, Italian born artist Mario Sughi, who goes by the alias nerosunero, makes large scale digital paintings which present snapshots of strangers' lives. Son of famed artist Alberto Sughi, Mario turns the gallery viewer into voyeur with his large bold works showing everyday scenes in brilliant techni-colour.  As though 'people watching' on a summers day, some of the works in Encounters seem as if viewed from a park bench or street side café, while other more intimate scenes seem more sinisterly captured through a key hole or hidden camera.

The combination of these two artists' contrasting works will create a diverse viewing experience for the gallery's summer audience. Exploring new techniques of working and bold uses of colour and light, the viewer can expect an interesting and eclectic visit this season to Luan Gallery.

The exhibition was officially launched on Friday 30th June with an address by Dr Ruby Wallis.

The exhibition will continue until 26th August. Luan Gallery is open Tuesday – Saturday 11.00 – 17.00 and Sundays 12.00 – 17.00.

Admittance to Luan Gallery is free of cost and guided tours are available to all at no cost.
<!-share feature-->
Share this

Share on Facebook

Tweet This