Exhibitions
NIGHTSCAPES and MIDDEN exhibitions opening at Luan Gallery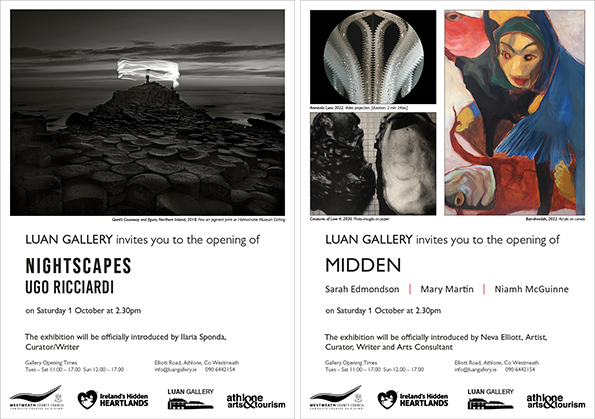 posted: Sep 26
Luan Gallery is delighted to present NIGHTSCAPES by Swiss-Italian photographer Ugo Ricciardi and MIDDEN by Irish artists Sarah Edmondson, Mary Martin, and Niamh McGuinne. The exhibitions open on Saturday 1st October at 2.30pm and will continue to Sunday 20th November.

NIGHTSCAPES presents selected photographic, large-scale prints, and video works from Ricciardi's ongoing Nightscapes project, which focuses on the human connection with nature and its ancestral past. The project takes the artist around the world, capturing breath-taking nightscapes of landmarks and ancient sites illuminated by the moon and his digital lighting interventions. 

MIDDEN comprises a captivating series of new and existing works in painting, print, sculpture, installation, and video projection by Edmondson, Martin, and McGuinne, working collaboratively as the Midden Collective.  Midden are akin to mankind's inscriptions in nature; they provide a tangible archive of a generation's (human or creature) lifestyle, behaviour, and diet. Coming from the different approaches of their respective practices, the artists use middens as a basis to interpret evidence and create new narratives about the past and future. 

Carmel Duffy, Manager, Luan Gallery says that;
"We are really delighted to host these exhibitions which invite us on an imaginative journey through time, presenting connections between mankind and nature and encouraging us to contemplate evolution and question if there is a future for humanity as we know it."  

The exhibitions will be officially launched on Saturday 1st October with a wine reception at 2.30pm. All are invited to attend. Guest speakers will introduce the exhibitions at the opening. NIGHTSCAPES will be introduced at by Italian Curator and Writer, Ilaria Sponda and MIDDEN will be introduced at the opening by Artist, Writer, Curator and Arts Consultant, Neva Elliott.

The exhibitions will continue until Sunday 20th November. Luan Gallery is open Tuesday – Saturday 11.00 – 17.00 and Sundays 12.00 – 17.00. Admittance to Luan Gallery is free of cost and guided tours are available to all at no cost.

More information on the exhibition and upcoming events can be found at www.luangallery.ie and on Luan Gallery's social channels.
<!-share feature-->
Share this

Share on Facebook

Tweet This