Exhibitions
Queer As You Are; Summer Group Exhibition at Luan Gallery
posted: Jul 16
As part of its Summer 2021 programme Luan Gallery is delighted to present Queer As You Are; a group exhibition of Irish artists which explores the gaps and fissures of queer presence within Irish history and considers how queer historical discourses, or lack thereof, populate our past,  present and future.
The exhibition will run from 20th July to 19th September, pending public health restrictions and will feature artists; Kian Benson Bailes, Stephen Doyle, Austin Hearne, Breda Lynch and Conor O'Grady and is curated by Aoife Power and Carmel Duffy.

The artists within this exhibition examine the tension in translating different historical, social, and cultural contexts into something that can be understood by others today. Addressing the absence of objects to assist in their story telling each supplement alternative materials, drawing on psychoanalysis, activism, archaeology, hook up culture, the occult and autobiographical accounts.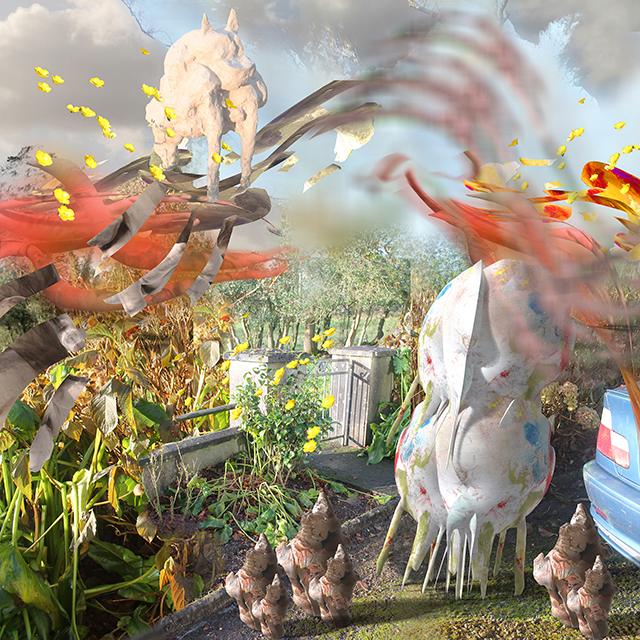 Garden, Digital Collage, 2021, Kian Benson Bailes

Kian Benson Bailes engages with stories from the fringes of Ireland's heritage and creates a different space for thinking about regional history. Intersecting between craft and queer theory, drawing parallels between the aesthetics of rural and marginalised communities. For Bailes neither craft nor queer are essentialist terms, each resist definition and have complex identities. Employing paper mâché and non-precious materials he produces proxy artefacts to allow for a rereading of our heritage.

Stephen Doyle's Attending Colaiste is a critical examination of the role of education and the institution in the lives of queer youth. Succinctly, Doyle illustrates the creation of isolation and shame propagated by the lack of representation for queer, trans, and non-binary youth in educational settings. The duality of their self-portraits is consequential of the withdrawal of queer advocacy and how it has direct impact on the futures that queer youth imagine for themselves and for others.

In his practice Austin Hearne attempts to (re)appropriate and queer religious imagery, seeking a way to celebrate queer memory whilst simultaneously acting as a point of resistance.  Despite holding a staunch position, himself, Hearne's practice is a nuanced reflection on religion and suffering, rather than sacrilege. The infiltration of religious intuitions into the queer Irish life is represent through a serious of domestic and interior items. Unapologetically camp they remind us that intermingling the sexuality and materiality of bodies with the transcendental concepts of spirituality and religion can still shock.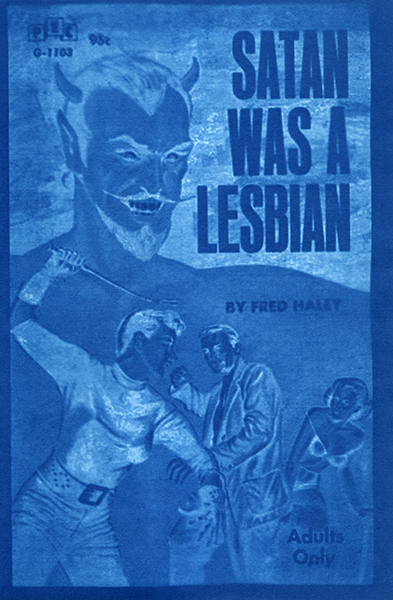 Satan was a Lesbian, Cyanotype, 2019, Breda Lynch

In her on-going project Fragments of a lost civilisation, Breda Lynch endeavours to make the hidden history of women's same-sex desire comprehensible. A continuous issue, female queerness and sexuality is still largely invisible, in part because it wasn't seen as so significant in legal and religious terms. Her research-based practice presents a series of 'forgaged' images from obscure archives, popular culture, mainstream media platforms, collective memories and underground information structures as a method to visualise new inclusive realities. Play appears important to Lynch's scholarship. Through play she engages an audience and draws debates, memorably noting that if we failed to record female sexuality 'we may as well have fun with it'.

In his work Conor O'Grady highlights the symbiotic relationship between marginalized groups, mapping isolated spaces within urban rural settings as sites of 'promise' or 'victimisation'. He offers unique perspectives on class, generation and space and the negotiations of safety by closeted gay men outside the commodified 'gay bar'. His interview- based practice documents groups whose lives have not been affected by the changing political landscape and who actively aim to leave little to no trace of their existence. 

Government recognition of LGBTQIA rights in Ireland has expanded greatly over the past two decades however Queer visibility and acceptance is a relatively recent development in the social and legal landscape.

At present Ireland has a significant number of social spaces and support centres for the LGBTQIA community, however the midlands still remain a grey area with limited public spaces or resources. Responding to this void, Luan Gallery aims to temporarily transform into a multi-textural space that will hopefully establish meaningful connections for the Midlands LGBTQIA community that will persist beyond the exhibitions closure.

Queer As You Are is subject to Government Health restrictions in place at that time. For further information visit www.luangallery.ie or @luangalleryathlone on Instagram

Luan Gallery is open to the public Tuesday to Saturday from 11am – 5pm and Sundays from 12 – 5pm. All are welcome.
<!-share feature-->
Share this

Share on Facebook

Tweet This