Exhibitions
Solo Exhibitions by Elaine Hoey, Louise Wallace and Clare Scott in Luan Gallery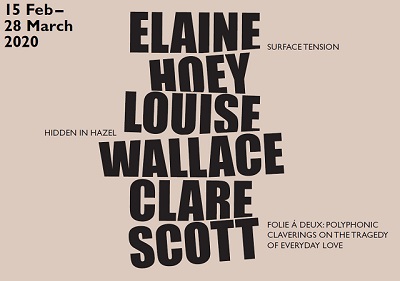 posted: Feb 06
Three solo exhibitions open at Luan Gallery this Spring 

As part of its 2020 Spring programme, Luan Gallery is delighted to present three solo exhibitions by emerging Irish artists; Elaine Hoey, Clare Scott and Louise Wallace. Occupying the three gallery spaces at Luan, the exhibitions will run consecutively from February 15th to 28th March. 

The opening of the exhibitions; Folie à Deux: Polyphonic Claverings on the Tragedy of Everyday Love by Clare Scott, Surface Tension by Elaine Hoey and Hidden In Hazel by Louise Wallace will take the form of a panel discussion with the artists, chaired by Joanne Laws on Saturday 15th February at 2:30pm and all are invited to attend.

Luan Gallery is keen to support artists who push the boundaries of their respective mediums. Hoey, Scott and Wallace are emerging Irish artists working across a variety of disciplines who create visually striking work, and communicate and integrate artistry and compelling storytelling in their respective practices. Their contrasting use of technology and traditional materials work is juxaposed in Luan Gallery's differing spaces to dramatic effect. 

Elaine Hoey is an exciting emerging artist working in the mediums of virtual reality, interactive art and gaming technology. Hoey's exhibition Surface Tension, presented in the New Gallery space at Luan features work consisting of video installations and an interactive based installation using virtual reality technology. Surface Tension examines the political tensions affecting Europe today. The work places the viewer in a central role, as both performer and witness in this immersive experience which encourages new perspectives on nationalism and the migration crisis. 

Louise Wallace is a visual artist based in the west coast of Ireland. Her interest lies in creating a socially engaged art practice through the medium of Fine Art, Photography, Film and Video. Her exhibition Hidden In Hazel displayed in the River Gallery examines the current cultural transition from analogue to digital technology and explores the interactions faced by those living an existence free from rapid digital connections and data exchange. It offers three glimpsed character studies of people who choose to live a more isolated 'analogue' existence with little or no connection to the digital realm, instead choosing to focus on their own personal creative endeavours and unique existences.

Clare Scott is a multidisciplinary artist based in Waterford. Her career has seen her work in computer graphics, theatre, film design and painting before returning to college in recent years to expand her practice.  Scott's Folie à Deux: Polyphonic Clearings on the Tragedy of Everyday Love is a site-specific sculptural exhibit housed in the Library Gallery space at Luan. Her 'loosely pre-planned' structures aim to create a space for the contemplation of concepts and relationships which are otherwise 'ambiguous or invisible'. She ultimately presents these large-scale structures as abstract shrines to Lilly Foley McCormack, wife and dedicated partner of Athlone's most famous son and internationally renowned tenor, John Count McCormack (1884 – 1945).

The exhibitions open at 2.30pm on Saturday 15th February with a wine reception and a panel discussion moderated by critical art writer, Joanne Laws to which all are welcome to attend. The exhibitions continue until Saturday 28th March.

Luan Gallery is open to the public Tuesday to Saturday from 11am – 5pm and Sundays from 12 – 5pm. 
<!-share feature-->
Share this

Share on Facebook

Tweet This