Exhibitions
Three Solo Exhibitions at Luan Gallery
posted: Jan 31
Luan Gallery is delighted to present three solo exhibitions this Spring showcasing the works of artists; Cecilia Danell, Hilary Kinahan and Rosemarie Lantry whose exhibitions explore themes of landscape and memory.

Featuring three distinct exhibitions of work, each artist occupies a solo space in the gallery. With Galway based Danell's 'Tactile Terrain' taking residence in the Library Gallery, Midland's Langtry's 'Rooted to the Land' residing in the River Gallery, and Westmeath's Kinahan's RAPT, presented in the New Gallery space, these exhibitions show a variety of works in painting, print, mixed media, tapestry and sculpture. Though innately different in practice, style and approach, there are common threads throughout these three exhibitions. Each artist looks at landscape, environment and memory, and offers unique responses to the themes.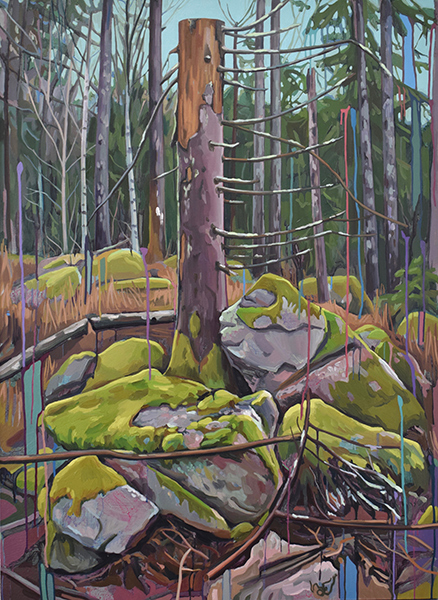 Cecilia Danell New Year's Eve 2021, oil and acrylic on canvas, 130 × 95 cm, 2021

Cecilia Danell is a Swedish artist based in Galway. Her practice is process based, where accumulated research into landscape and the psychology of place is coupled with a strong interest in materiality and making. Danell returns annually to her family farm in Sweden to walk and gather research material for paintings based around the rich forest landscape. This body of work was made throughout the pandemic and this time of introspection and enforced solitude has resulted in a deep engagement with painting, where the winter landscape further represents that sense of stillness. To counteract the feeling that we couldn't touch anything, Danell made soft, tangible textile objects to accompany her paintings.

Hilary Kinahan is an Irish artist, based in rural Westmeath. Her work is inspired by her surrounding landscape and place, which she documents through a daily practice of walking, gathering found materials and photography. Her interests lie in the connection between memory and place, the cycle of life and nature. Her practice involves documenting an ever-changing landscape through photography, drawing, painting and printmaking techniques. 

Rosemarie Langtry is a multidisciplinary visual artist based in Ballinahown on the border of counties Westmeath and Offaly. She is inspired by the nature that surrounds her home, particularly rural and bog-landscapes, found and corroded man-made objects, and the abundant waterways her native county is known for. These inspirations are reflected in her highly evocative work, which creates a strong, organic sense of place.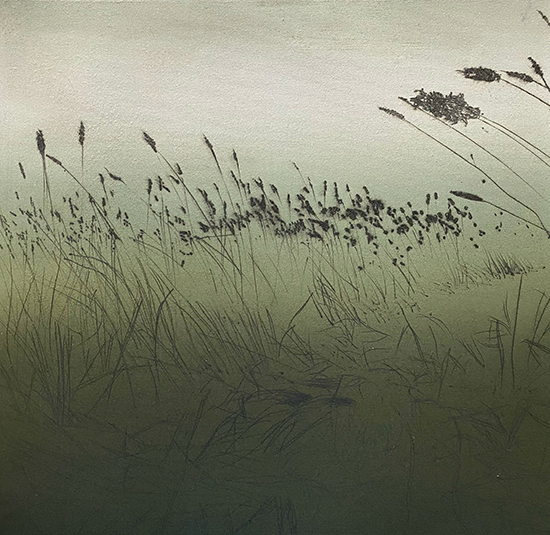 Hilary Kinahan Meadow, etching 30 × 30 cm, 2022

Carmel Duffy, Manager says; 
'We're thrilled to launch these exhibitions and present these three very talented artists at Luan Gallery. The exhibitions showcase three female artists of varying career stages working in very different ways but with a lot of thematic cross over. 

We strive to provide meaningful experiences to the visitor here at Luan Gallery and often the art works on display simply act as vehicles of encouragement prompting visitors to discuss their own life experiences. The works will no doubt, prompt audience conversation around their experiences of the land which will reflect and deepen the communicative power of art.'

An accompanying Artist's Talk, facilitated by the well-respected Arts Curator and Mentor, Eamonn Maxwell will take place at 2pm on Saturday 19th February at Luan Gallery. The talk will also serve as a public introduction to Luan Gallery's new Visual Art Curator, Valeria Ceregini. For those interested in attending, booking in advance via info@luangallery.ie is highly advisable as places will be limited.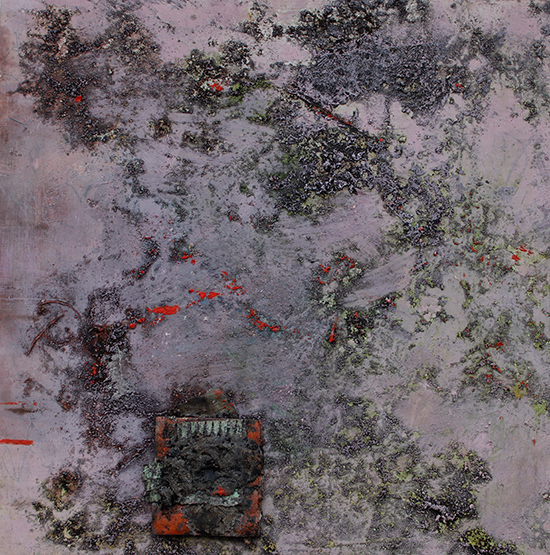 Rosemarie Langtry Resting in the bog, oil, wax and mixed medium, 84.5×84.5 cm, 2021

The exhibitions will open at 11am on Saturday 12th February, all are welcome to attend. All three exhibitions will run concurrently until Sunday 3rd April 2022.

Admission to the gallery is free for groups and individuals. School or group tours and workshops can be arranged by contacting the gallery in advance on 090 6442154.  Luan Gallery is open Tuesday – Saturday 11.00 – 17.00, Sunday 12.00 – 17.00 and is closed on Mondays. All public health guidelines are adhered to and the safety of visitors and artists is of the utmost of importance to Luan Gallery. 
<!-share feature-->
Share this

Share on Facebook

Tweet This