Exhibitions
Three Solo Exhibitions at Luan Gallery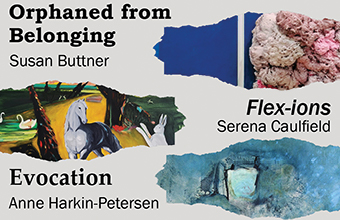 posted: Sep 28
Orphaned from Belonging by Susan Buttner, Flex-ions by Serena Caulfield and Evocation by Anne Harkin-Petersen open from 28th September to 18th November

This year Luan Gallery rolled out its programming in support of Irish artists living at home and abroad who created new work during the Covid-19 pandemic. The gallery team closely followed and observed artists who used this challenging time to focus on their practice - conducting research, undertaking residencies, creating new work and participating in professional development. 

Manager of Luan Gallery, Carmel Duffy says;
"Buttner, Caulfield and Harkin-Petersen are fine examples of this cohort of Irish artists. On first glance they don't appear to have any commonality, working in different styles and mediums, at different stages of their careers, living in different parts of the country and inspired by seemingly unrelated subjects such as language, pain, theology, art history, landscape and mythology and yet they have... these talented and resilient Irish artists produced amazing work under difficult circumstances and are bound by their resilience, talent and determination to connect with audiences."

Dublin based multidisciplinary artist Susan Buttner presents 'Orphaned from Belonging' an exhibition which borrows its title from the 1926 essay "On Being Ill," by Virgina Woolf, who argues, ... in health we maintain the illusion, psychologically and outwardly performative, held in the arms of civilisation and society. Being ill pushes us out, orphans us from belonging...
Driven by intensive research, new sculptures, paintings, performance and sound, undertaken during Covid-19 restrictions give form to fundamental questions about the verbal difficulty of expressing pain, the political and perceptual complications that arise due to this difficulty.

Using a wide vocabulary of methodologies, sensitive to the nuance of material in balance to the context, this work considers pain as a cultural signifier. One is presented to another in a moment of communication exchange. How we relate to and make meaning in relation to other bodies, how we respond to mediations of pain to come to an understanding of other bodies and how in an art context it can function politically.

Flex-ions by Serena Caulfield, a Wexford based artist, alludes to reflections on the river, and the nature of the River Gallery space at Luan Gallery.  Flex-ions reflects; on time, on art history, and lots in between. Playing with words, 'flection' could be how a child says 'reflection', or perhaps points to the flexibility of memory and myth, both of which are often skewed over time. To flex implies movement in a forward motion, and ions are the tiny particles and elements that make up everything in the universe. Taking rudiments from both the past and the present, we push forward. This is never a linear progression, but one, which consistently looks at and examines itself. 

The exhibition presents a new collection of oil on canvas, oil on board and various works on paper and is inspired by a variety of sources, ranging from classical artworks to children's drawing books, aural histories to local myths. Disobeying a linear art history while reclaiming it somehow in the present, Caulfield repurposes art history to play with its power, both visually and conceptually, imbuing the anachronisms of the past with the attitudes of the present. Her paintings are mashup-allegories, engendered with the frivolities and traumas of our time. But the artist is also in there, somewhere in the paint, an individual attitude trying to resolve itself amidst all these references, feelings and politics swirling on the canvas. She refers to being "an artist of a time with no time."

Evocation by County Galway based artist, Anne Harkin Petersen presents a deeply powerful and thought-provoking body of work. The title of the show means the act of bringing or recalling a feeling, memory or image to the conscious mind, the action of eliciting a response. 

Her work is concerned with a world beyond the tangible, opening a portal into a domain that encourages the imagination to go beyond conscious reality, an exploration into possible alternatives to the prevailing influences of a predominantly materialist world.

Harkin-Petersen's prefers abstract expressionism as a genre which enables a creative field that embraces questions rather than demonstrates absolute answers; encourages the use of bold gestures, colour and mark-making combinations; and, facilitates that element of surprise and anticipation that sparks memories of childhood creativity and play.

She uses process, physical gestures and the manipulation of materials (oil paint mainly) to mirror the manipulation, uneasiness, anxiousness and obfuscation of meaning that has become so much part of our era of accelerated communication. On one hand there is a policy of self -confession that can be excessive but there is also a large degree of sensationalism which questions matters of integrity and value.

These exhibitions will be supported by online activities such as an accompanying performance piece by Susan Buttner and an Artists' Talk facilitated by Curator, Eamonn Maxwell which will take place on Thursday 21st October.

The performance piece by Susan Buttner can be viewed on Luan Gallery's social media Channels.
The exhibitions continue until Thursday 18th November and are open to members of the public subject to Government Health restrictions in place at that time. 

Luan Gallery is open to the public Tuesday to Saturday from 11am – 5pm and Sundays from 12 – 5pm. All are welcome.
<!-share feature-->
Share this

Share on Facebook

Tweet This