Exhibitions
Westmeath Artists' Awards Exhibition marks the ten-year anniversary of Luan Gallery.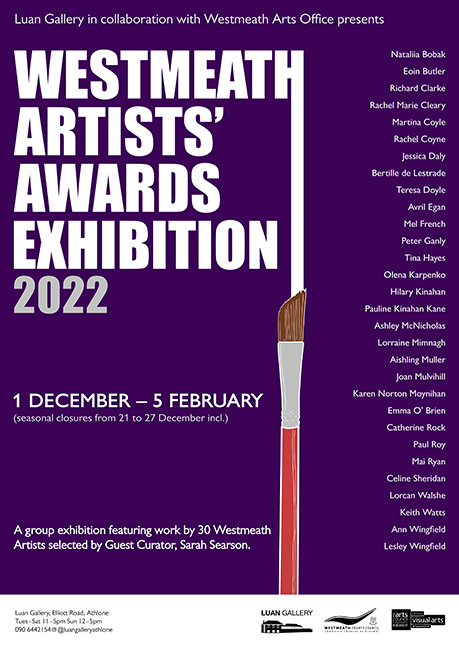 posted: Dec 07

Luan Gallery opened its doors to the public 10 years last week. This milestone anniversary was marked with the official opening of the inaugural Westmeath Artists' Awards Exhibition last Thursday evening, 1st December.  The exhibition was launched by Cllr. Aengus O' Rourke, An Cathoirleach of Westmeath County Council with guest speakers, Sarah Searson, Curator and Pat Gallagher, Chief Executive Westmeath County Council. 

The Westmeath Artists' Award, is a partnership between Luan Gallery and Westmeath Arts Office aiming to celebrate, showcase and support the development of Westmeath visual artists' practices and careers with funding support from the Arts Council of Ireland.

The Luan Gallery Manager, Carmel Duffy, opened proceedings and welcomed the Cathoirleach, guest speakers, exhibiting artists, and the huge attendance of family and friends, supporting the thirty artists.  She said, "It is fitting that this moment in the history of the gallery is marked with a celebration of the wealth of artistic talent in the county. At the very core of this collaboration between Luan Gallery and Westmeath Arts Office is the celebration, support and encouragement of the ongoing professional development of practicing visual artists living in or from County Westmeath."

The inaugural Awards were selected by the highly respected Guest Curator, Sarah Searson, Director of the Dock, Carrick on Shannon who reviewed the 90 plus submissions and created a selection that complemented the more established artists with emerging talents culminating in a sensitively curated exhibition of wonderful paintings, photography, mixed media, printmaking, sculptural and film works by the thirty selected artists, many of whom are exhibiting for the first time in Luan Gallery. 

Each exhibiting artist receives a bursary award of €500. An overall award selected and announced by Guest Curator, Sarah Searson was made to Olena Karpenko, an artist living in Athlone, to further her professional development.  Sarah said, "Karpenko's work is abstract, playing with layers, colour and forms, with over-layers of colour washes, made with acrylic and mixed media on paper. Her practice strongly references her passion for abstract expressionism. The works selected are from a series titled Terra Patera which is a reflection on the war in her home country of Ukraine".  Olena will receive a bursary of €1,500, an opportunity to exhibit in Luan Gallery, a residency in Abbey Road Artists' Studios, a studio visit and mentorship session with a curator together with admin and pr supports from Luan Gallery.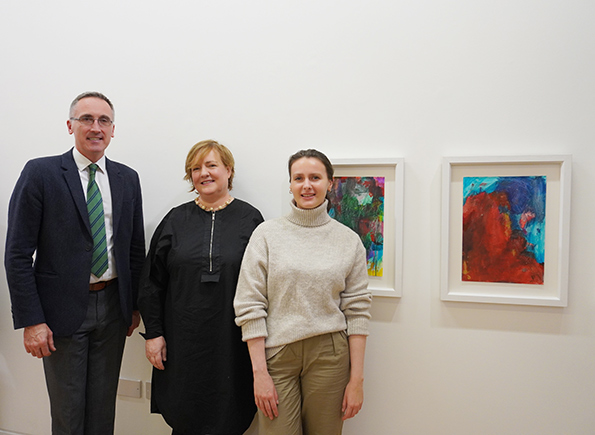 L-R: Cllr. Aengus O' Rourke, An Cathoirleach of Westmeath County Council, Sarah Searson, Guest curator and speaker, and winner Olena Karpenko

As the gallery reaches this milestone anniversary guests were reminded that as, the first purpose-built municipal visual art gallery in the Midlands, Luan Gallery, gave people living in Athlone, Westmeath, and the surrounding counties an opportunity to visit a public art gallery. Such an experience previously required artists, students, and art enthusiasts to travel to galleries in Dublin or elsewhere to study and view contemporary art in person. The gallery plays a crucial role locally, regionally, and nationally in making visual art accessible by showcasing a wide range of contemporary visual art exhibitions, projects, installations and outreach and educational programmes for artists and the community.

Luan Gallery has hosted seventy-six exhibitions since opening, supporting hundreds of emerging, mid-career and established artists and has welcomed over one hundred and twenty-eight thousand visitors during that time. 
The Chief Executive and Cathoirleach reminisced about the origins of Luan Gallery and the efforts to secure funding as part of the investment in the development of arts and cultural assets in Athlone and the county. They congratulated the exhibiting artists and award winner, thanked Sarah Searson for her time and expertise, praised the Arts Office and Luan Gallery for developing the initiative and acknowledged and thanked the Members of Westmeath County Council for supporting the development and ongoing operations of Luan Gallery and the annual company subvention the Arts Council for the Awards funding support. The event concluded with the Cathoirleach officially declaring the exhibition open and encouraging everyone to bring their friends and family to visit the exhibition over Christmas and the New Year.

The exhibition will continue until Sunday 5th February 2023 with seasonal closures from 21st to 27th December inclusive. Luan Gallery is open Tuesday – Saturday 11.00 – 17.00 and Sundays 12.00 – 17.00. Admittance to Luan Gallery is free and guided tours are available to all at no cost. More information on the exhibition and upcoming events can be found at www.luangallery.ie and on Luan Gallery's social channels.
<!-share feature-->
Share this

Share on Facebook

Tweet This